Our primary goal at Bethesda Medical Associates is to do our best to keep you safe and healthy, especially during the current coronavirus pandemic.  In order to continue to provide quality care, here are a few updates we've made in the past month:
We Are Open
We've temporarily modified our office hours as our intentions are to limit in-office visits. We are open 8 am-4 pm Monday through Thursday, and 9 am-4 pm on Friday. Please call our office (301) 493-9320 and our staff will assist with scheduling the appropriate appointment type (in-office, video visit, or phone call).
In-Office Experience
We request that you come to your appointment alone, or at most with one family member or critical member of your care team, whenever possible. At this time, we are not able to accommodate walk-in visits. All who enter our suite will be screened prior to entry. Screening outside of our suite will include verifying that a face covering is worn and checking the temperature at the temple or forehead in addition to reviewing your responses to the screening questionnaire posted on the door. Please note, those with respiratory symptoms (fever, cough, shortness of breath) or other potential COVID-19 symptoms cannot be seen in the office. Upon entry, you will note that we now have plexiglass shields at the front desk reception areas. All employees, patients, and visitors are expected to wear a face-covering at all times.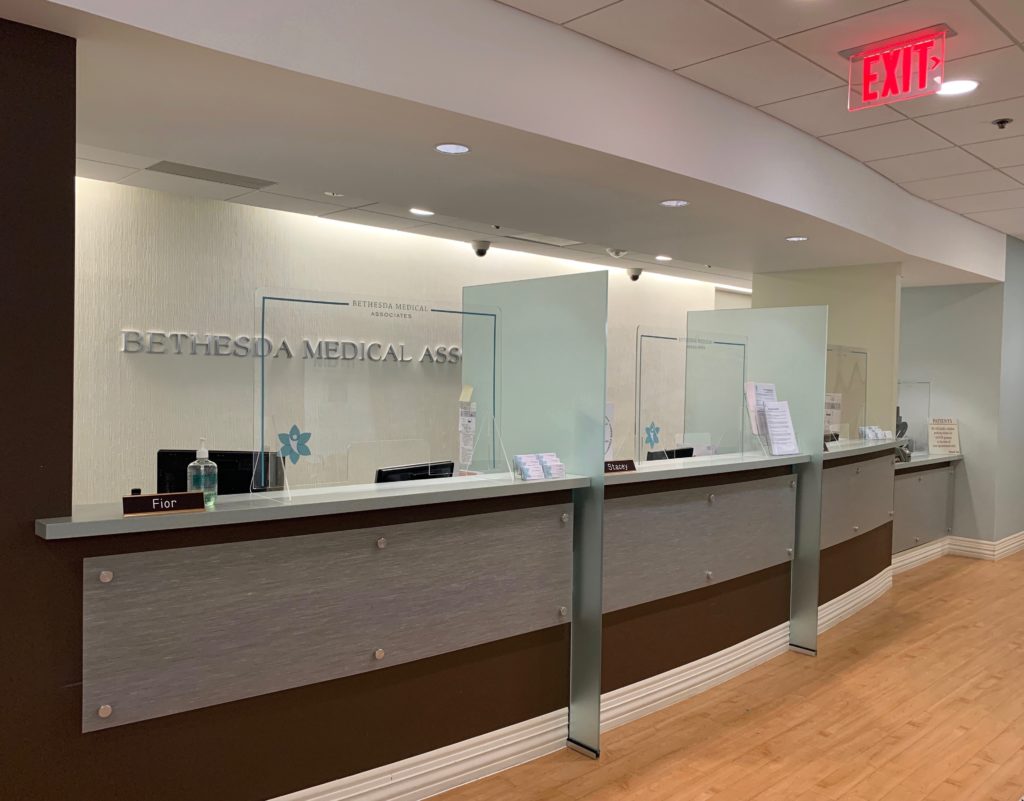 Telehealth
We are now conducting telehealth visits to allow you to access your physician by video using your computer or cell phone, as well as by telephone and the Athena patient portal. These appointments are appropriate for assessing new issues, providing routine follow-up visits, chronic care disease management, medication management, review of tests or laboratory results, and lifestyle coaching.
For more information about telehealth, including how to schedule a visit, please visit our site dedicated to this topic.
Annual Wellness Visits
Preventive care priorities have changed due to the Coronavirus pandemic.  Our top priority is to keep you and our staff healthy by reducing the risk of spreading the virus.
We are resuming Annual Wellness Visits effective June 1, 2020, but the format has changed due to public health concerns. The modified 2020 Annual Wellness Visit consists of 2 parts.  The first part includes fasting blood testing and vital signs in the office.  The second part will be a virtual telehealth visit during which you and your doctor will review the test results and also will discuss your chronic conditions, medications, and preventive health screenings. There are limitations to what can be done by telehealth.  If during the virtual wellness visit you and your doctor feel that an in-office visit for a physical examination or additional testing is necessary it will be scheduled.  You may also opt to schedule a virtual nutrition screening visit with our dietitian, Jessica Murgueytio.
 If your 2020 Annual Wellness Visit was cancelled due to the pandemic we will be reaching out to reschedule in this modified format.  If you have a 2020 Annual Wellness Visit scheduled in the near future, we will be contacting you to discuss rescheduling in the new format. 
 If you have not signed up for the Athena Patient Portal now would be a good time to do so. Benefits include being able to view laboratory reports and upcoming appointments, and also communicating securely with your doctor. Please call the office if you want to sign up for the Patient Portal or to reschedule an upcoming appointment.
As always, if you have any questions or concerns, please call our office at 301-493-9320. We also encourage you to visit our website, bethesdamed.com, for updates to our status and more information and resources to support you during the COVID-19 pandemic. Thank you for allowing us to continue to provide excellent care for you and your family.
Your partners in health,
Bethesda Medical Associates
---